Water Operator
Workforce Ready
Certificate Program
Program Overview
The five-week Water Operator Workforce Ready Certificate Program was developed by WaterWorkforce in collaboration with Cal Poly Pomona College of Professional and Global Education (CPGE). The Program — taught onsite at the Cal Poly CPGE campus in Pomona — prepares students for entry-level water/wastewater operator positions and WaterWorkforce apprenticeship program. Dedicated students will attain comprehensive water systems knowledge, work-ready skills, and industry-recognized certifications. Additionally, students will have job placement opportunities in the water and wastewater industries. Entry-level wage is $22.50-$27.00 per hour and the average wage full-time in California is $57,669 per year.
Participants will gain a thorough understanding of essential industry skills including:
System operations
Tools and equipment
Safety procedures
Installation and repairs
Utility fundamentals
Water math
National Incident Management System (NIMS) principles
Supervisory Control and Data Acquisition (SCADA) operations
Work readiness and professional skills (soft skills)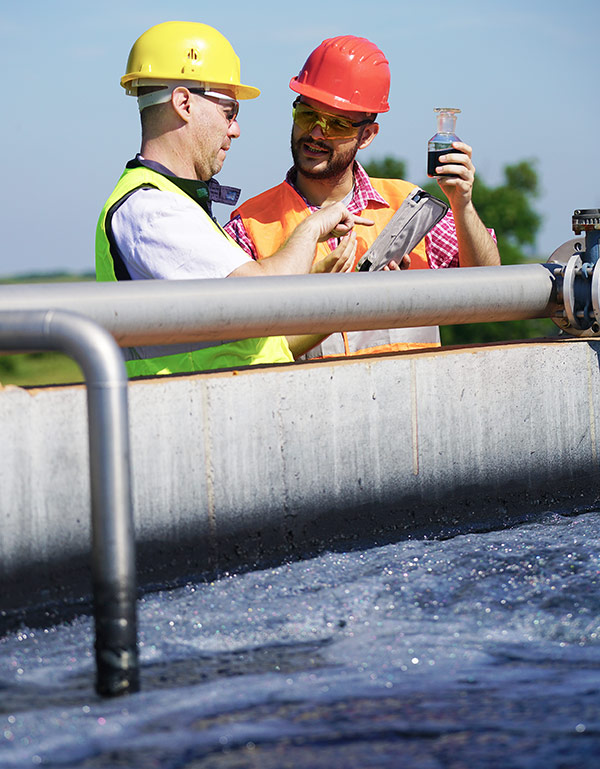 Certifications
Students who successfully complete the program will be issued Certificates of Completion by Cal Poly Pomona CPGE and WaterWorkforce (80 contract hours). Additionally, during the program, students will submit their application to State Water Resource Control Board (SWRCB) to take the Water Distribution Operator 1 or 2 Exam and/or Water Treatment Operator 1 or 2 Exam. Students should receive an accepted application letter and a testing date issued from the state at the completion of the 5-week course.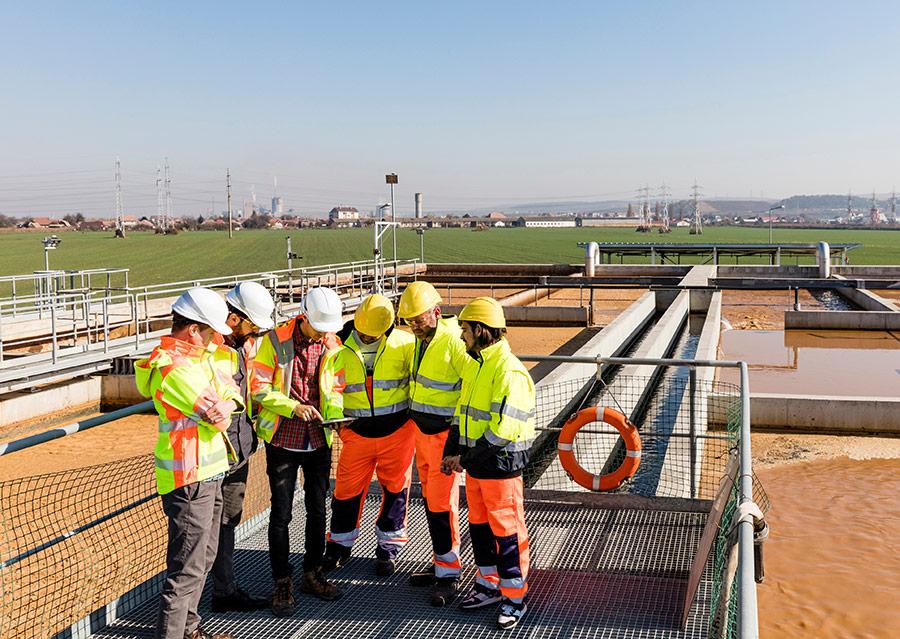 Curriculum Overview
Utility Core Functions (Entry Level) – 80 hrs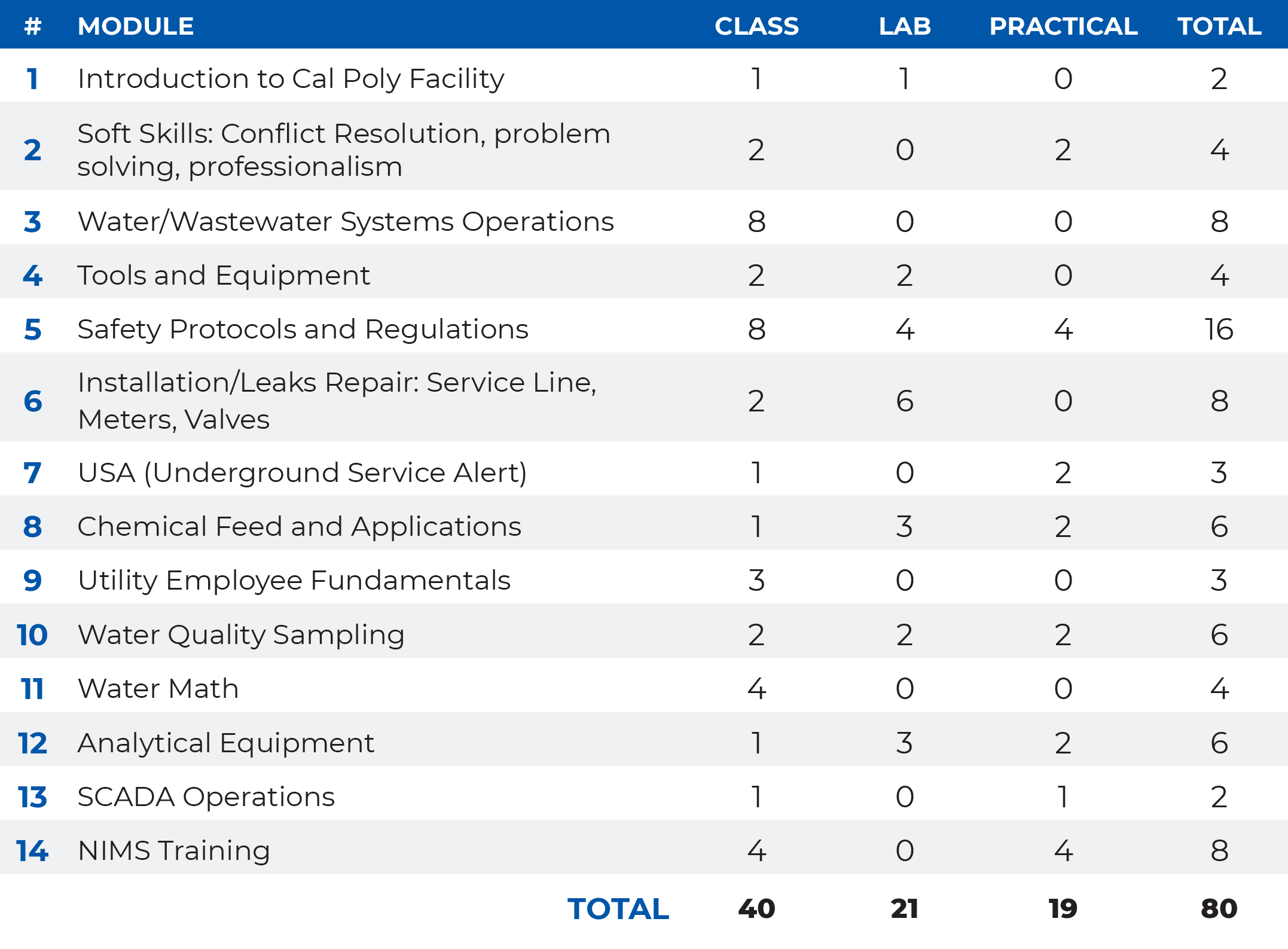 > Program Start Date: January 12, 2024
Basic eligibility requirements
High School Diploma
1-2 water or wastewater courses and/or any experience in water/wastewater operations.
Pass background check and drug test.
Tuition
This comprehensive five-week training program is being fully funded by Water Workforce Academy and Transition U, a nonprofit dedicated to supporting veterans.
Who should apply?
The ideal program candidates will meet the basic eligibility requirements and any of the follow criteria:
Those who have water quality or plumbing experience.
Those who have taken a water and/or wastewater course.
Those who have worked, volunteered or interned in the water industry.
Military personnel who have worked in water/wastewater or hydraulics.
"We feel that this certificate program is essential to develop a pipeline of trained candidates who are prepared for careers in the field. The boot-camp accelerates the career readiness of participants for entry-level positions as water systems operation specialists and wastewater treatment plant operators."
Bret Kadel, CEO, WaterWorkforce
Certificate Program Details
Take the First Step!
Attend Mandatory Information Session
Submit Application – sent via email after signing up for info session
Submit resume and high school or college transcripts (unofficial transcripts accepted)
Interview with WaterWorkforce Staff Member
Submit Right to Work Documentation & Selective Service Letter (males, if applicable)
Receive Acceptance Letter (sent via email)
Mandatory Cal Poly Pomona Tour: January 5, 2024
Begin the Training Program!
Program start date: January 12, 2024


Sign up for an Info Session Today!
Participating in the certificate program starts with showing up to a free online information session. Sign up for a date and time that works for you.